Audi has launched 3 cars this vehicle.It first started with the launch of 2nd generation Q5.It was introduced with only diesel offering at that time.Now the company has introduced the petrol version of Q5 2018 to give good range of choices to customers and also to enhance petrol offering in the country.The chief rivals of Q5 petrol 2018 include Mercedes Benz GLC and BMW X3.Volvo XC60 is not included in this list as XC60 has no petrol motor in it's lineup.So here is the comparison of price,engine options and specs of Audi Q5 2018 Petrol vs BMW X3 vs Mercedes GLC.
Dimensions
[wp_table id=1403/]
When it comes to specifications,X3 is the longest of the all with Q5 falling slightly short of X3 and GLC being shortest of the three.2018 Q5 is wider than both it's rivals.X3 has the highest ground clearance with GLC having more space between the wheels followed by BMW X3 and Q5 due to largest wheelbase.Both Q5 2018 and Mercedes GLC offer 550 litres of bootspace but in GLC you have choose between spare wheel and cargo area.However the X3 only has to offer 485 litres of the same,falling short of both the cars.
Engine
[wp_table id=1404/]
Moving to the engine performance,the difference is not that great.BMW X3 xDrive30i Luxury line gets the 2.0-litre, four-cylinder, BMW TwinPower Turbo petrol engine that churns out 250bhp of max power and 350 Nm of peak torque, mated to 8-Speed automatic transmission and is also available with steering wheel paddle shifters. 0-100kmpl is done in 6.3 seconds.
Audi Q5 punches 248 bhp of power and 370 Nm of torque. It too gets a 2-litre petrol engine and a 7-speed automatic gearbox.Q5 2018 has a top speed of 237kmph and 0-100 is done in 6.3 seconds.
Also Read:New petrol engine introduced in Q5 2018
The Mercedes-Benz GLC also gets a 2-litre engine good enough for 241 bhp but torque is the same as the Q5. Top speed of the GLC is 222 kmph and torque of the car is available at lower rpm than both these cars.
Price
Now last comes the price.In terms of pricing, Audi has managed to undercut its chief rivals with the new Q5.The pricing of Q5 2018 starts at Rs. 55.27 lakh going all the way up to Rs. 59.79 lakh(Ex-showroom,Delhi)). The BMW X3 costs 56.90 lakh which is more expensive than the base Q5 but 3 lakh less expensive than the top-end model. The GLC 300 costs Rs. 55.70 lakh which is more costlier than the Q5 Premium Plus version.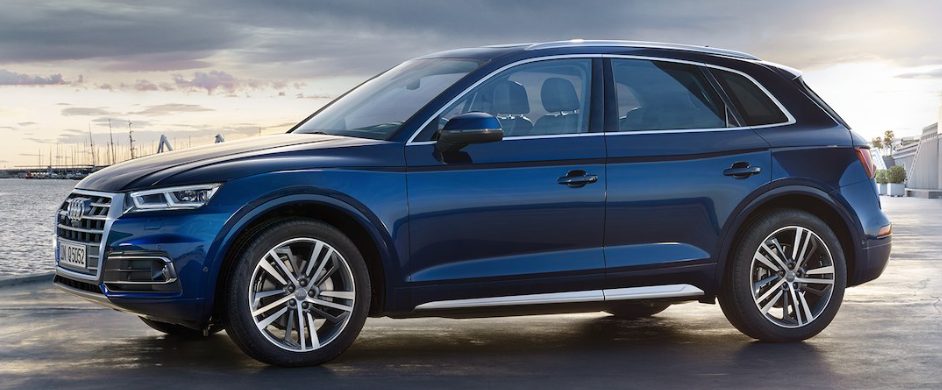 Also Read:Mercedes E-Class All-Terrain Top Speed,Features and Price
Also Read:BMW X6 rival Audi Q8 Launched in India