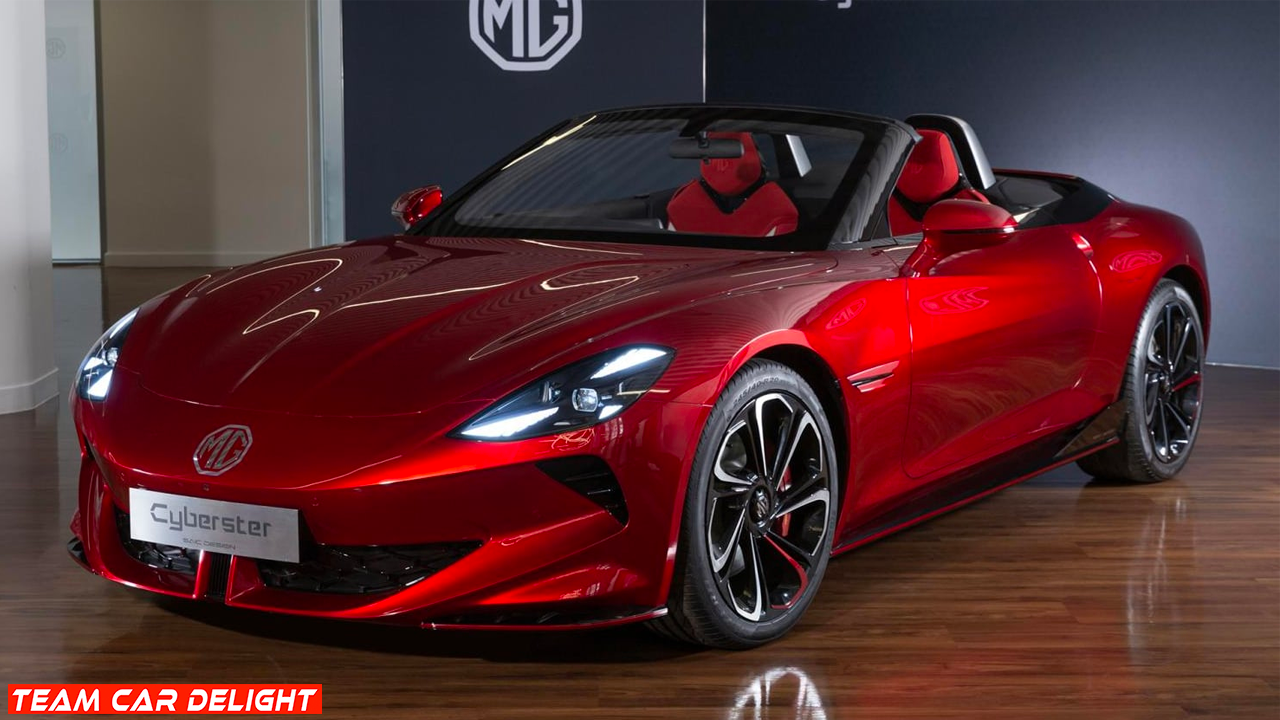 MG Motors in China has launched the Cyberster 2-Door electric convertible sportcars which will compete with the Neta GT which also has the similar specs and performance.
New MG Cyberster Launched: What you need to know!
The MG Cyberster, which made its debut at the Goodwood Festival of Speed, has officially been launched in China, generating significant buzz, especially regarding its pricing. This all-electric sports car from the renowned British brand offers 3 variants: Glamour Edition, Style Edition, and Pioneer Edition. Each variant comes with a unique powertrain configuration – RWD 501, RWD 580, and AWD 520, respectively. In terms of pricing, the MG Cyberster Glamour Edition RWD 501 is priced at CNY 319,800 (approximately Rs. 37 Lakh), the Style Edition RWD 580 costs CNY 339,800 (around Rs. 39 Lakh), and the Pioneer Edition AWD 520 is priced at CNY 315,800 (approximately Rs. 41.5 Lakh).

To provide context, the top-spec Cyberster in China is priced at a point comparable to a top-spec Fortuner in India, making it an intriguing option for luxury car enthusiasts. The MG Cyberster is a 2-door, all-electric sports car boasting a 77 kWh battery, a powerful 536 BHP dual motor setup delivering 725 NM of torque, scissor doors reminiscent of Lamborghini, and an electrically operated convertible soft top. Its impressive performance metrics include a rapid 3.2 Second Acceleration to 100 KMPH from a standstill.

The MG Cyberster, produced by the Chinese State-owned SAIC at the Ningde plant, has made waves with its impressive pricing in China. This all-electric sports car is anticipated to make its debut in key global markets, including Britain and Europe. In terms of dimensions, it measures 4535 MM in length, 1913 MM in width, 1329 MM in height, and features a 2690 MM long wheelbase.

The convertible roof, a standout feature, opens in a mere 10 seconds at speeds below 50 KMPH. The design is truly sensational, featuring a sloping front, air ducts in the bodywork, a classic headlight design, and timeless proportions. The aesthetic is further enhanced by 4-pot Red painted Brembo brake calipers visible behind 20-inch aluminum wheels. Inside, the focal point is the triple-screen setup behind the steering wheel, with outer displays tilting towards the driver. Unlike the previously showcased yoke, the steering wheel is a flat-bottom unit, maintaining a sleek appearance with well-designed buttons that exude elegance. The entire cabin is enveloped in premium materials, creating a luxurious and plush ambiance, complemented by metallic accents throughout.

The Cyberster marks MG's return to sports car production. The base RWD 501 model is equipped with a 64 kWh battery pack powering a single motor, delivering 310 BHP and 475 NM to the rear wheels. It achieves a range of 501 KM, while the mid-spec RWD 580 features a larger 77 kWh battery with the same single motor RWD setup, reaching 100 km/h in 4.9 Seconds. The top-spec AWD 520 variant utilizes the same 77 kWh battery but incorporates two motors with a combined output of 536 bhp and 725 Nm. With a range of 520 km, it accelerates from 0-100 km/h in an impressive 3.2 seconds. While there is a desire for the MG Cyberster to launch in India, it's suggested that pricing it around Rs. 70 – Rs. 80 Lakh, especially for the top-spec AWD 520 model that costs Rs. 41.5 Lakh in China, would be an ideal approach.