This is the list of Top 10 Highest selling cars in India as of the month of October 2018.
The month of October has seen Maruti Suzuki sales in India constant while Hyundai's sales have received an increment thanks to the launch of Santro 2018.Tata, Mahindra and Ford had a boost in sales in this month.In the midst of so many car launches in October 2018, here are the 10 cars that topped the table in terms of total sales.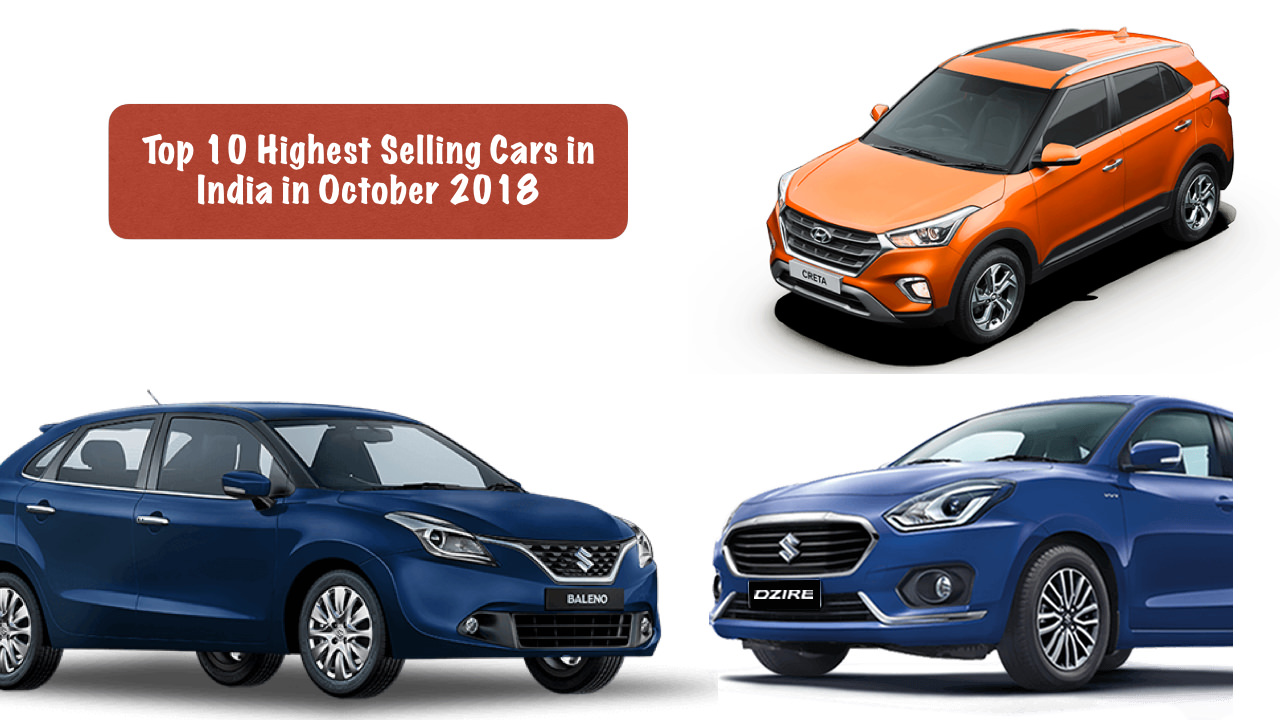 Maruti Alto twins have again regained their top spot after loosing the #1 spot to Maruti Swift in September 2018.Maruti Alto has always been hot selling product with sales ranging between 20,000 to 30,000 units per month.In October 2018, a total of 22,180 units of Alto were sold in the market.Maruti has always dominated the India market and while sticking to the top #5 spots.At No. 2 comes Maruti's premium hatchback, Maruti Suzuki Baleno.Maruti Baleno has always remained in the top 5 highest selling car list and in this month only, Baleno recorded it's highest sales in the domestic market.The total units of Baleno in October 2018 were 18,657.
At No. 3 comes Maruti Dzire.Maruti Dzire which has even seen sales of around 30,000 sales in a month has received a drop in sales.Maruti Suzuki Dzire sedan which comes in a variety of engine options has sold 17,404 units.Swift has been the highest selling car in India in October 2018 has dropped down to No. 4 position.Swift, which made to the top 5 list in this month sold 17,215 units in October.Like the Dzire, Swift also comes with petrol and diesel AMT with excellent fuel efficiency.
In this list of Top 10 highest selling cars in October 2018, comes the Vitara Brezza.Maruti Brezza have always topped when it comes to the SUV sales.Maruti Brezza SUV grabs the #5 spot with it's best ever 15,882 units sold in Indian market in October 2018.At No. 6 comes first non-Maruti car, that is, Hyundai Elite i20.Hyundai's premium and feature loaded hatchback, Elite i20 is the highest sold Hyundai car in October 2018.The stylish hatchback had 13,290 units against it's name.
[wp_table id=2817/]
Hyundai Grand i10 which has been Hyundai's top selling car for couple of months is now under Elite i20 since last few months.Hyundai Grand i10 which rivals Maruti Swift stands at No. 7 position with total sales accounting for 11,820 units. The second highest selling SUV in India has been Creta.Hyundai Creta SUV has undergone mild design facelift in May 2018.At No. 8, Creta accounted for 11,702 units.
As we move closer to the launch of next-generation WagonR in India, sales of the popular hatch is slowly declining.The car which used to account for around 17,000 units sales per month has dropped down to No. 5 position with a total sale of 10,665 in October.Celerior remained in the top 10 highest selling car list even in October beating Honda Amaze.Celerio at #10 position in October has sold 9,260 units.   
Also See
Indian Car Sales Figures in August 2018
Top 10 Highest Selling Cars in India in September 2018
Top 10 Highest Selling Cars in India in August 2018